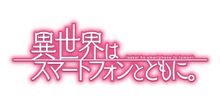 The In Another World with My Smartphone (異世界はスマートフォンとともに, Isekai wa Sumātofon to Tomo ni?) Web Novel written by Patora Fuyuhara began its serialization on the Shouestsuka Ni Narou website on April 8, 2013. It currently has 500 chapters which are separated into 32 story arcs.
Plot
The hero who died because of the God's mistake will start a second life in another world. He has a body which is risen by God and a smartphone which can be used in another world. As he meets various people and gains precious friends during his journey, the hero unravels the secrets of this world. While he nonchalantly goes around the world, he inherits the heritage of ancient civilization and joint together with the kings and queens of the world at ease.
Background
Trivia
The Web Novel has been viewed over 100,000,000 times in total on Shousetsuka ni Narou.
The longest story arc is the 28th story arc, Fetal Movement (

胎動

Taidō

?

) with 72 chapters.
The shortest story arc is the 3rd story arc, Crystal Monster (

水晶の怪物

Suishō no Kaibutsu

?

) with only 3 chapters.
All chapter names consist of two nouns, separated by ", and (

、そして

, soshite

?

)"
External Links